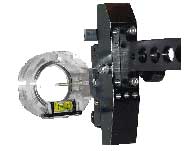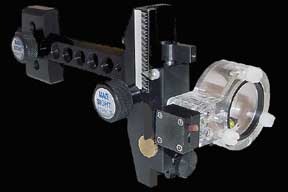 Pro 3D Model
Field tested for two years

6.5 inch Aluminum Bar.

Magnesium Housing.

Third Level axis adjustment. (Pro only)

Acrylic Scope Housing.

Ophthalmic grade Lens, 1 5/8 inch, 2x-10x. (Pro only)

Innovative LED Light Design w/quiet switch. (Optional)

Micro-Adjust Windage and Elevation.

Fiber optic pin .030

Weight 11.6 oz. We're not the lightest,
but we are the toughest.
Stainless Steel hardware guards against rust.

Delrin Riser Mount, for Vibration Dampening.

Pointer and scale for Elevation adjustment may be mounted on either side.

Infinite Dovetail Windage Adjustment.

Rack and Pinion preloadable elevation adjustment.

No tools required for adjustment. (Pro only)

Nylon Thumb Screws allow for infield removal of Lens.

Patented Tagnite coating finish.

Available in Black Anodized, custom colors available.

For pricing please contact us at our web site. You'll be surprised at how reasonable our prices are.